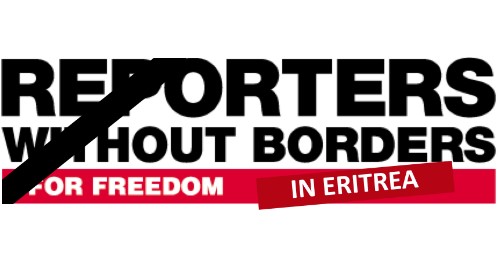 Reporters Without Borders (RSF) pays tribute to the 11 journalists held indefinitely in inhuman conditions after being arrested without charge 15 years ago this month in Eritrea, in a September 2001 crackdown that ended all media freedom in this Horn of Africa country. RSF urges the European Union, which is trying to normalize its relations with Asmara, to not close its eyes to actions that constitute crimes against humanity and violations of the Eritrean population's fundamental rights..
On 18 September 2001, the government led by Issayas Afeworki, a former hero of the Eritrean revolution turned dictator, rounded up all the opposition members who had dared to publish an open letter in the privately-owned media calling on the government to implement the constitution and hold elections.
The editors of all the independent print media were arrested a week later. Held in Asmara without being tried or charged, they went on hunger strike. In order to hide them from their outraged families and fellow citizens, the authorities transferred them to the remote EiraEiro detention centre. Their families have not seen them since then.
Of the 11 journalists arrested in September 2001, seven are believed to have died in detention. The survivors, Dawit Isaak, Seyoum Tsehaye, Temesgen Gebreyesus and Emanuel Asrat, continue to be held. RSF has referred their cases to the UN Working Group on Enforced or Involuntary Disappearances.
"We call on President Afeworki to stop persisting in these arbitrary and repressive practices and to free the journalists who are still imprisoned," RSF said. "The freedoms of Eritrea's citizens have been constantly flouted for the past 15 years on the grounds of national security and the eternal conflict with Ethiopia. The president says his priority is development. You cannot have sustainable development without an open society in which the justice system functions and freedoms are respected.
"We also address this message to the EU governments that are negotiating a return to normal relations with Asmara without asking about political prisoners and human rights. The journalist Seyoum Tsehaye was arrested 15 years ago today. He is not alone. At least 15 journalists are currently detained arbitrarily in Eritrea. The number is probably higher because no information emerges from this country.
"The EU cannot close its eyes to the Eritrean government's countless violations, which a UN Human Rights Council report in June described as 'crimes against humanity.' The EU cannot adopt a conciliatory position towards the Afeworki regime."
In June 2015, RSF filed a complaint against persons unknown before a French court on behalf of Tsehaye's daughters, but the French judicial authorities said they have no competence over the matter.
Western governments are clearly interested in normalizing relations with Asmara because they want to stop the flow of Eritrean refugees, thousands of whom are fleeing the country every month to escape the threat of lifelong conscription.
Nonetheless, a UN commission of enquiry into the human rights situation in Eritrea concluded in June that events taking place there, including the enforced disappearance of journalists and politicians, constitute crimes against humanity.
RSF is changing its logo on today's anniversary of Tsehaye's arrest in order to draw attention to the complete lack of a free press in Eritrea.
---