Early Monday morning, The Security Agents in Asmera arrested Mr. Berhane Abrehe, the former Finance Minister of Eritrea (2000-2012)
Asmara, Eritrea, Monday, September 17, 2018: On the eve of Black September, the 17th anniversary of September 18, 2001, the day the regime took  draconian measures and cracked down upon the free press and arrested journalists and top government officials, known as G-15, who demanded democratic change and the implementation of the ratified constitution, the security agents of the  regime arrested Mr. Berhane Abrehe, the former Finance Minister and the author of the recently released book, "Ertra Hagerey."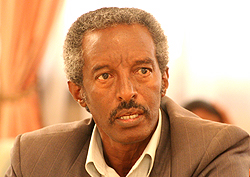 In his two-part book, Mr. Berhane Abrehe detailed how the president of the country is responsible for suffering of the Eritrean people and called upon the Eritrean youth to rise up for democratic change. In a recent audio message, and as a prelude to the publication of his book, Mr. Berhane Abrehe outlined a process in which Isaias Afwerki would surrender power to the Eritrean National Assembly in a "peaceful, legal, civilized and Eritrean manner."
 Many Eritreans have applauded his courage to speak truth to power and have expressed their concern of what would happen to him. Some exiled former members of the Eritrean National Assembly issued a statement asking their former comrades-in-arms and colleagues to rise up in support of Mr. Berhane Abrehe and accomplish the mission of democratizing Eritrea.
This Monday morning, Mr. Berhane Abrehe was out in town for breakfast with his son when the regime's security agents approached and asked him to come with them. He was taken to an undisclosed location, and no family member has been notified of his whereabouts.
It is to be recalled that his wife, Mrs. Almaz Habtemariam was also arrested at the beginning of 2018 and has been jailed incommunicado. She is a veteran of the liberation struggle who joined the Eritrean People's Liberation Front (EPLF) in the mid 1970s at a very young age.
Mr. Berhane Abrehe is also an EPLF veteran who joined the liberation struggle in 1975 after finishing his graduate studies in the United States. He served the EPLF and the Eritrean government in various capacities. In 2012, he criticized Isaias Afwerki for mishandling the Bisha mining revenues, which precipitated his resignation or firing from the Minister of Finance.
Mr. Berhane Abrehe is the father of four children.
We call upon the international community to put pressure on the Eritrean regime to abide by the Universal Declaration of Human Rights to which it is a signatory.
 
Human Rights Concern – Eritrea (HRCE)
This email address is being protected from spambots. You need JavaScript enabled to view it.
---