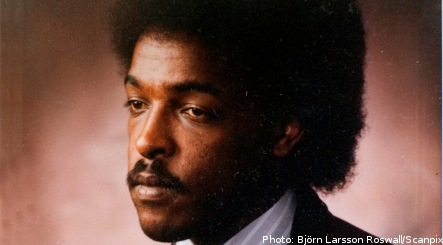 The Swedish-Eritrean journalist Dawit Isaak, who has been imprisoned since 2001, will not be released and will not get a trial.
This states the President of Eritrea, Isaias Afwerki, in an interview with freelance reporter Donald Boström, broadcasted in TV4.
"We will not have any trial and we will not release him. We now how to handle him and others like him", says the President.
Afwerki believes that the pressure put on his country, together with all opposition against the regime, is part of a conspiracy against Eritrea, lead by the US intelligence agency CIA.
He fully brushes aside the attempts from the Swedish Government to get Dawit Isaak released.
"Sweden is irrelevant to me. The Swedish Government has no relevance in our lives".
"The Swedish population should not be deluded by the acts taken by single persons in the Swedish Government".
Isaias Afwerki says that he doesn't know the whereabouts of Dawit Isaak and that he doesn't care about it.
"I do not even care where he is or what he does. He made a big mistake and is responsible for what he has done. I do not waste time trying to find out where he is or what he does".
No diplomatic relations
President Isaias Afwerki says in the interview that there currently isn't any diplomatic relation between Sweden and Eritrea.
"At the time is it impossible to have a relation with Sweden. We aren't especially interested, says Isaias Afwerki, and specially accents one 'incident' that seems to have been a part of the 'silent diplomacy' the Swedish Government says to have used in the struggle for the release of Dawit Isaak.
"It's about a citizen of Eritrea. The Swedish Government has no right to ask questions about him", says Isaias Afwerki.
No comments from Bildt
Sweden's Minister for Foreign Affairs, Carl Bildt, do not want to comment the statement by the Eritrean President.
"I have no comments to this, like we earlier have refrained from commenting the varying information that has prevailed in the Isaak-case. But as I earlier has said: we have used all available methods", says Carl Bildt to news agency TT.
"If this interview gives anything at all, then maybe it will give the general public some insight about how tricky this case is".
Protest rally
Many Swedish journalists have taken a personal interest in the case of the Swedish citizen Dawit Isaak. During this spring Sweden's four leading newspapers have had a big campaign where they have brought attention to the case of the imprisonment of Isaak.
Yesterday hundreds of Swedish-Eritreans protested against hoe Eritrea is pictured in Swedish media.
The campaign by the newspapers was described as 'one-sided'. The organizer of the protest, Zeray Teclai, said that there had been a 'tsunami' of negative depictions of Eritrea in the media.
"If you want to criticise the government, it's fine by me, but they give an image of Eritrea that we don't recognize. We want to nuance the image", Teclai says to newspaper Svenska Dagbladet.
See the whole 70 minutes interview with Isaias Afwerki here.
David Jonasson
This email address is being protected from spambots. You need JavaScript enabled to view it.
---