January 22, friday
8:00 PM
DCTV
87 Lafayette street (below Canal at White street) 212.966.4510
$8
more information at: http://www.dctvny.org/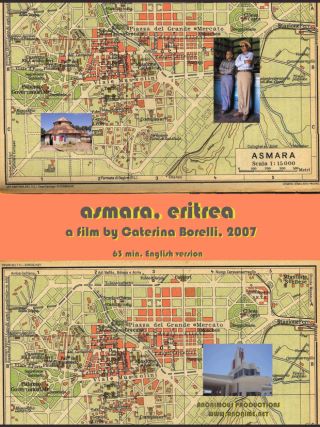 Asmara - capital of the East African nation of Eritrea - is recognized as an architectural gem. In this film Asmarinos from different walks of life, guide us through the streets of their city and bring us to places of their choice. In doing so, and by talking about 'their own' Asmara, each person locates personal memories in public spaces investing the urban environment with individual meanings. Through their narrations - a chorus of different experiences embodying the nation - the country's history from colonialism to independence comes to life.
Asmara Eritrea should serve as a model in documenting African cities. Through interviews with local residents, the filmmaker is able to imbue the built environment with life, to evoke the feel of the street and the interrelationship of neighborhoods. In particular, the film excels at unpacking a particularly complex 20th century history, which awakens viewers to complex geopolitical forces sparring over the horn of Africa even as it traces the development of a gracious and livable city.

 --Z. S. Strother, Riggio Professor of African Arts, Columbia University

www.anonime.net/asmara
distributed by DER – http://www.der.org/
---