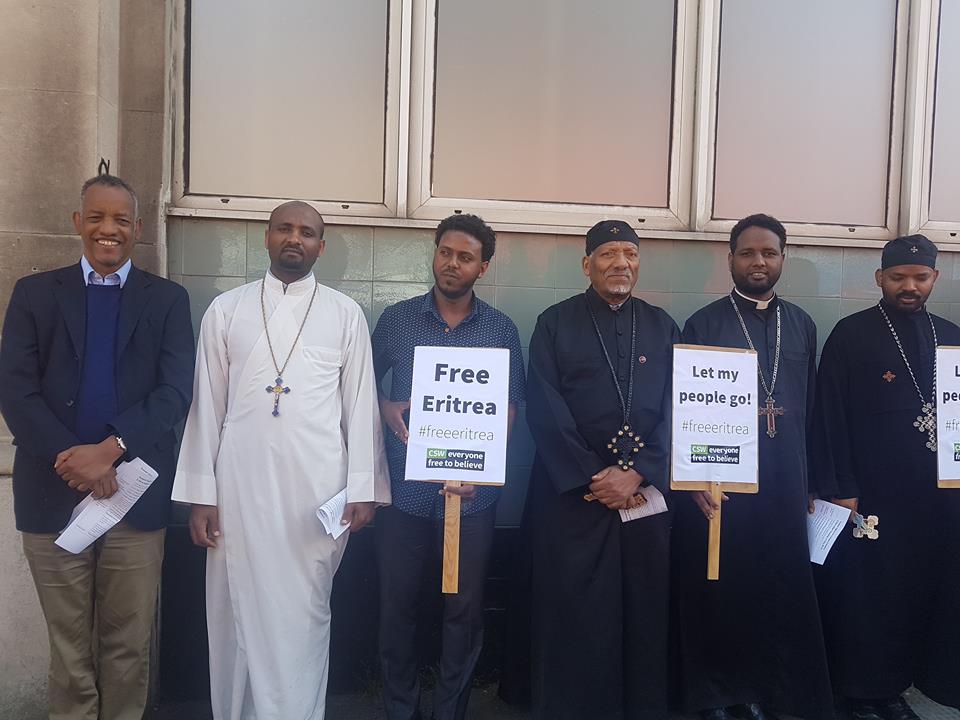 Eritrea still holds hundreds of Prisoners incarcerated for their Religious Faith
(London 18-07-2018) Release Eritrea has confirmed that this morning around 30 prisoners who were imprisoned for their Christian faith have been released. Another five were released yesterday. All prisoners (11 women and 24 men) were released on bail from Mai-Sirwa Prison. This group of prisoners had filled out forms agreeing to not participate in meetings conducted by their respective churches four and half years ago, however unlike their fellow believers who had done that to secure release previously they were never granted a release until yesterday. Bail conditions are unclear and prisoners who were unable to fulfil those conditions still remain in prison.
Many of those released are young people and people who are not identified as leaders of their respective groups and fellowships. All the pastors and leaders of the closed churches remain in high security prisons including the notorious Karsheli where prominent church leaders have been imprisoned since 2004.
In a related report, Release Eritrea has also received information that a group of about seven Christians found praying together were arrested a couple of weeks ago. The arrests come following directives at various meetings where government officials asserted Pentecostals continue to be a threat to national security and unity.
In a statement Dr Berhane Asmelash director of Release Eritrea said 'inevitably we thank God for those released, but we are concerned about those that remain in prison and in particular the elderly Patriarch of the Orthodox church and the priests and pastors who have been in prison since 2004, they too are getting on in age and have increasingly failing health. There are hundreds of prisoners in at least ten prisons around the country imprisoned for periods ranging from few months to close to 20 years we call for them all to be released.'
As a human rights organisation Release Eritrea has worked to advocate for and support thousands of prisoners since 2004. At present the charity monitors the situation of hundreds of prisoners in Mai-Etir, Dahlak, Metkel-Abyot, Assab, Mai-Sirwa, Gergera, police stations in Asmara and Karsheli. In addition it is said that there are various prisoners incarcerated in prisons run by their army divisions but their conditions are unknown as these prisons are run by respective officers independently. Although it is difficult to ascertain the total number of Christian prisoners of conscience in the country Mai-Etir and Dahlak alone had close to 250 including the 35 released this week.
For additional information please contact Release Eritrea on: 0044 7931554136
---