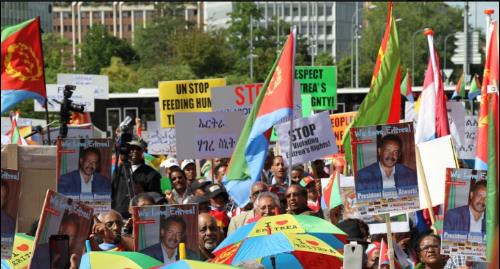 Eritrea: Diaspora visitors panicked as news of war with Ethiopia was announced
Arbi Harnet (Freedom Friday)  activists who have been monitoring reactions to the weekend of fighting and cross incrimination between Ethiopia and Eritrea at the start of the week were surprised to note the difference between the reactions of residents of the capital Asmara and the diaspora visitors who have come from Europe and the US to celebrate the silver Jubilee last month.
While Asmara residents are convinced that the conflict has nothing to do with national integrity and everything to do with panic in the aftermath of the recent UN report implicating Eritrean leaders in crimes against humanity, diaspora visitors were more worried about their personal safety and were seen trying to hastily organise their exit out of the country.
The report sent yesterday stated: [on] June 13th 2016: 9:00 a.m. I went to the immigration office and I was so surprised to see it fully packed with Diaspora Eritreans and notably people from USA. Most of them were there for one reason, to get request an exit Visa. What surprises me is not only their huge Numbers but also their disturbed faces. All of them were showing a stern faces and moving back and forth aimlessly. They were also talking in a hush voices among themselves. Once I start to ask around I understand that all this excitement was because of the rumors spilled in the city that war has broke out at the tserona front. The Diaspora Eritreans (Most of them stench government supporters who have been acting as zealous supporters only few days ago) were so quick in running away from a country they are supposed to protect. The irony of all of this is that, although the inside Eritrean population received the war rumor with indifference and many people dismissed it as a futile attempt by the Eritrean Regime to distract people's attention; the Pro-government diasporas that come to Eritrea to be part of the jubilee celebrations were so disturbed and most of them are leaving the country in hurry or at least they are making sure they have an exit visa in hand in case things went out of control. Today June 14th 2016 the situation is the same and more Diasporas are packed in the immigration visa office.
Activists said that this reaction was reminiscent of identical reactions in 1998 when many who claimed to have returned to their home land to support the rebuilding of the nation, also left hastily only to return few years later for holidays.
---