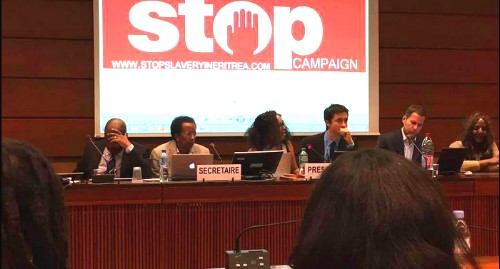 Eritrean activists working for democracy in justice in their country are making an undeniable impact at the 29th session of the UN Council for Human Rights. Yesterday the council discussed both the detailed report of the year long investigation of the Commission of Inquiry into human rights and the report of the special rapporteur who updates the council on the on going human rights concern in Eritrea as well as the new trends of violations including the unjust and illegal demolition of houses and forced eviction of residents in Asmara, Adi keyih and various other towns and cities in the country.
Both reports received wide spread  support from member states, who are now consulting on a draft resolution proposed by Djibouti to extend the mandate of the Commission of Inquiry and the Special Rapporteur calling on Eritrea to cooperate with both processes.
For their part Eritrean human rights activists addressed the Council focusing on their respective areas of concern and with a united voice calling for an end to impunity and supporting the resolution for ongoing investigation that will lead to conclusive findings of the alleged crimes against humanity being perpetrated in Eritrea.
Additionally the Stop Slavery in Eritrea Campaign held a widely attended side event highlighting concerns of the unprecedented exodus of young Eritreans fleeing a plethora of human rights violations including the indefinite national service, which is now widely believed to be a form of slavery.
Many events are also due to take place over the remainder of the week including another side event organized by Human Rights Concern Eritrea and its partners as well as the large demonstration set to take place outside the UN headquarters on Friday June 26th. Eritreans from across Europe have already started making their way to Geneva with many more expected to arrive overnight.
---