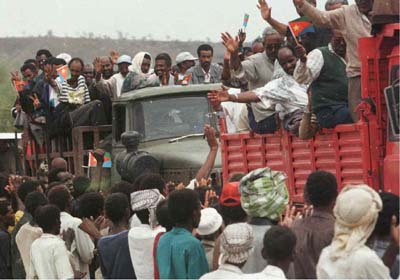 By Tesfa-alem Tekle
May 31, 2009(ADDISABABA) – Ethiopian government has directed to authorize expelled Eritreans to reclaim assets they left behind before the two neighbor states went in to a bloody border war in 1998.
Eritreans in Ethiopia highly welcome a move by the government of Ethiopia that grants expelled Eritreans to reclaim assets they left behind before the two neighbor states went in to a bloody border war in 1998.
The directive approved this week by the council of ministers, will allow expelled Eritreans to reclaim their property, savings in bank and a privilege to make use of it and invest in Ethiopia as any other foreign investors. According to the new directive those who have sum unpaid will only be required to pay the amount of money they are indebted. There won't be any fines or penalties to be applied up on them.
Eritrean refugees in Ethiopia and a number of Eritrean opposition groups have commended the directive saying a major step forward in the efforts of healing the people to people ties of Ethiopia and Eritrea which yet remains at odds.
"The move by the Ethiopian government is well-timed and a move that is expected from a democratic nation" vice chairman of Eritrean refugees in Ethiopia, Sibhat Berhe, told Sudan Tribune on Sunday.
"It will pave a way to normalizing relations of both brotherly people who share centuries of history, culture and more importantly families" he further said.
The Eritrean Democratic Alliance (EDA), umbrella opposition of 13 Eritrean political parties in a statement said that that the directive passed by the Ethiopian government demonstrated that the Ethiopian people have never been an enemy to the people of Eritrea.
"We give full support for the directive, since it opens the doors to normalize and enhance the people-to-people relation of the two nations" Tewelde Gebresilase, EDA chairman said.
"The directive is a blow to some groups and media outlets which have tirelessly been trying to swell a sense of enemy ness to peoples of both sides by changing the pictures of their long standing and historic ties" he added.
Ethiopian Opposition groups have forwarded different reactions to the new directive. Lidetu Ayalyew, chairman of the Ethiopian Democratic Party (EDP) partly believes that the latest move is constructive.
"I don't see any reason there why Eritreans like any other foreign nationals don't come and Invest in Ethiopia"
In the other hand, a different opposition, Arena Tigray for Democracy and Sovereignty strongly opposes the latest move by government.
"Opposition parties were not consulted ahead of decision and above all the new directive is neither the interest nor the decision of the Ethiopian people" reached through phone opposition Chairman Gebru Asrat said.
"What kind of government would stand to the rights of foreign people at a condition where rights of its own people are not respected by the other side," he added.
The opposition leader further argues that the move could endanger the national security of the country. "Eritreans could use this opportunity as a means to carry out their ill plans against the people of Ethiopia."
But the Ethiopian government says that Eritreans coming to reclaim property, up on arrival will be screened for possible ties in one way or another with the state and security agencies of the Asmara regime.
Tens of thousands of people were deported from both sides before the border war broke out in May 1998.Many of them left behind property worth millions of dollars and huge debts owed to banks.
---