'Climate of racism and failure to respect migrants' rights'
 (ANSA) - Rome, May 28 - Amnesty International has slammed Italy for racism and its failure to respect the rights of migrants and asylum-seekers in its 2009 global report on the state of human rights.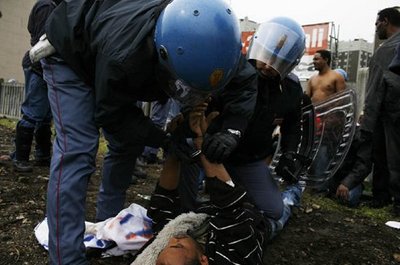 The report highlighted the plight of Roma gypsies living in Italy, who it said were the victims of racially motivated attacks and forced evictions as well as being unprotected by the authorities Speaking on Wednesday, a day before the report was made public, Amnesty's Italian branch president, Christine Weise, said the Roma were ''in many cases at the centre of contempt'' for human rights in ''a climate of growing racism''.
Amnesty also criticised Italy for failing to address human rights violations committed in the context of the United States-led programme of renditions with reference to the alleged CIA abduction of a Muslim cleric from Milan in 2003.
Abu Omar says he was snatched by a team of CIA operatives with the help of Italian military intelligence agency SISMI and whisked off to a NATO base in Ramstein, Germany.
From there, he was taken to Egypt to be interrogated, reportedly under duress.
Nasr, who was under investigation in Italy on suspicion of helping terrorists, was released early in 2007 from an Egyptian jail where he says he was beaten, given electric shocks and threatened with rape.
He has demanded millions of euros in compensation from the Italian government.
Italy is currently conducting a landmark trial into the affair but this is being held up by conflicting state-secrecy pleas.
Amnesty's report also condemns Italy for ''failing to include torture as a crime in its criminal code or to introduce an effective police accountability mechanism''.
It claims investigations into allegations of ill-treatment by law enforcement officials were ''inadequate'' and highlighted trials against police accused of brutality at the 2001 Group of Eight summit in Genoa.
FRATTINI PLEDGES TO WORK WITH LIBYA.
The report does not cover Italy's recent controversial decision to to return migrants attempting to cross the Mediterranean from Libya back to the north African country.
However, it criticised Italy for ''lacking comprehensive legislation for the protection of asylum seekers''.
Weise on Wednesday described the ''driving back of refugees who arrive by boat in deep seas'' as ''an expression of (Italy's) contempt for human rights and for really desperate people who are looking for help''.
She also said Italy would be ''held responsible'' for what happens to migrants and asylum seekers brought back to Libya in view of ''persistent reports of torture and other mistreatment of migrants, refugees and asylum seekers'' there.
Italy has sent back to Libya, which has not signed the 1951 United Nations Refugee Convention, nearly 500 would-be migrants since the launch of the policy on May 6. In a chapter on Libya, the Amnesty report says authorities announced in January their intention to expel all illegal immigrants from the country. ''They consequently conducted mass expulsions of Ghanaians, Malians, Nigerians and citizens from other countries,'' it said. The report said that 700 Eritreans are also ''at risk of forced repatriation (from Libya), despite fears that they will be exposed to serious human rights violations in Eritrea''. On Tuesday Italian Foreign Minister Franco Frattini pledged to put pressure on Libya to grant full diplomatic powers to UN refugee agency UNHCR so that it will be able to vet the asylum claims of would-be migrants. Frattini added that Libya had expressed willingness to work with UNHCR, describing this as ''an important step forward''. Last week the UNHCR complained that Libya does not allow its representatives to visit all its migrant holding centres.
The UNHCR's spokeswoman in Italy, Laura Boldrini, told RAI radio that although the agency has an office in Tripoli with local staff and two foreign representatives, it is there ''unofficially''. Italy's immigration policy has come under criticism from the UN, the Catholic Church and humanitarian organisations.
 
---