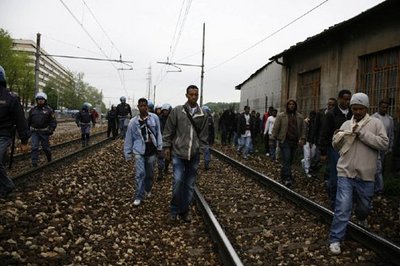 The march of the refugees ended at Paolo Pini – an ex-psychiatric Hospital.
There was tension, fights and scuffles between the police and immigrants at the abandoned residence – Leonardo da Vinci, Via Senigallia in Bruzzano (a ruin of 7 floors with 500 studios) – from last Friday. Only an hour ago, one hundred immigrants from Ethiopian and Eritrean nationality, with some young people in the centers, occupied the Milan-Meda which affected the traffic heavily [photos Affaritaliani].
The police intervened with some posts and tried to free the road. On this night, the residence was guarded by police officers in riot-gear and in the morning, a group of fifty immigrants came and asked to enter the place but the police prevented them.
The immigrants then moved on the rail tracks blocking the movement of trains.  There were delays of about half an hour on the Milano-Ace line. The police then took the full force of the immigrants. During the sit-in, demonstrators had waved permits and identity cards to prove their right showing placards that read, "We need peace."
The deputy mayor, Riccardo De Corato said:
"According to our social services, very few of those people have an officially recognized refugee status. We will continue the inspection. But it seems clear that the work has been taken care of by social centers that provided assistance in the afternoon. And Milan already supports a large number of refugees but cannot do much more".   
The refugees were about 350 and come from various African countries (210 Eritreans and the rest are Sudanese, Ethiopians and Somalis, including 28 women and two children, says the Courier).  Negotiations with the City of Milan failed because the refugees could not agree among themselves.
Early in the afternoon, a policeman and two migrants of Sri-Lankan origin were wounded.  Another charge from the police has caused 7 injuries – 5 of whom were transported to a hospital.  A dozen were bruised but they refused to be taken away by ambulance.
Alderman Mariolina Moioli – who has offered temporary accommodation for women and children and for those who are not yet included in the program under the protection for humanitarian aid – is investigating the matter.
"For others, I have proposed the inclusion in a program of six months to pay the institutions during which they learn Italian and a trade but they refused the offer. Among them, not only are there are the asylum seekers or those who recently arrived in Italy and need humanitarian assistance but also people who have been here for five years".
About 200 immigrants were marching from the Milan-Meda to Milan city center.  They were escorted by armored police and Carabinieri – the Italian police.
Some immigrants want to go to Switzerland.
"Italy does not recognize our rights as political refugees and asylum seekers and therefore, we prefer to leave and move to a country that respects civil law."
In Torino, there was a presence of solidarity.
Translation of Tensione a Bruzzano, scontri tra polizia e immigrati: occupata la Milano-Meda  by Gabriel Guangul
---