Disclosure: The author is long NSU. The author wrote this article themselves, and it expresses their own opinions. The author is not receiving compensation for it (other than from Seeking Alpha). The author has no business relationship with any company whose stock is mentioned in this article.
Summary
Nevsun recently shut down the processing plant at the Bisha mine due to an act of vandalism, in which minor damages were sustained.
However, that act of vandalism was actually an attack from Ethiopian fighter jets, according to reports.
The plant remains on track for restart later this week, which is positive news. However, some questions remain.
 Nevsun Resources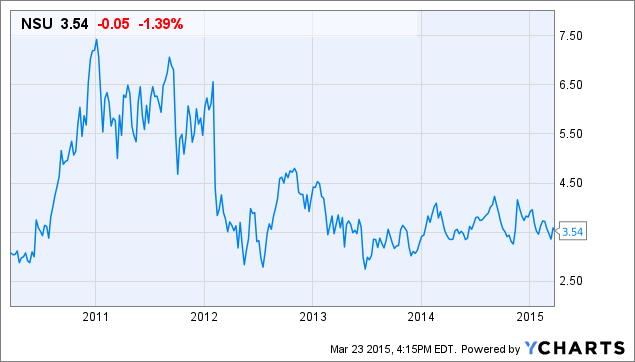 Nevsun Resources (NYSEMKT:NSU), a Canadian-based mining company, which owns a 60% interest in the Bisha mine, located in Eritrea, East Africa, has been in the news lately for not the best reasons.
The company announced on March 13 that the processing plant had been temporarily shut down due to a mechanical issue with the ball mill; the company said it would not negatively impact its 2015 annual production guidance, but take two weeks to resolve.
The company then provided a new update on operations on March 22, which said there was actually an "act of vandalism" at the processing plant; damages were sustained to the base of the tailings thickener, resulting in the release of water into the plant area. But at the same time, Nevsun said there was no significant impact to operations, no personnel were harmed, and insisted the re-start of operations will occur later this week.
Here's where things get interesting: Mining.com has reported that the Bisha mine was actually attacked by Ethiopian fighter jets, which dropped bombs near the plant, according to Ethiopian News.
I guess you can call that an act of vandalism in some respect, but it's certainly not what I was thinking when I first read the March 13 release. There is no clear motive for the attack (the fighters also attacked the Mai Edaga military depot), but what's clear is, there is some friction between the two countries. Why else would the Ethiopian army attack a copper-gold mine that's 40% owned by the government of Eritrea?
So, what does this mean for investors? Unfortunately, a few question marks and perhaps less credibility and trust in Nevsun's management team. As I mentioned in my previous article on Nevsun, Eritrea is considered a high-risk mining jurisdiction due to its location. But I definitely didn't expect the mine to become a target for an act of "vandalism" of this nature. And I don't think management handled this situation very well.
Still, I think any risks facing Nevsun are already priced into the stock. With a current market cap of $706.97 million and $442 million in cash (with zero debt), Nevsun's enterprise value is only $274 million, which is insanely cheap when you consider the fact that the company reported full-year EBITDA of $300+ million in 2014, and net income of $93 million, or $.47 per share, and should report similar results this year. Nevsun has $2.22 in net cash on its balance sheet, which it plans to use in a merger/acquisition opportunity, and pays an annual dividend of $.16 per share, giving shares a 4.5% yield.
The bottom line: I was a little put off by this news. If management knew the act of vandalism was really an attack, it should have reported it to its shareholders in the release. But at the same time, shares are deeply undervalued, and I remain confident in the company's potential to complete an acquisition or merger, and to re-start operations at the plant without further issue, so I'm not selling shares here.
 source: http://seekingalpha.com
---