EU-Africa Summit: The Bidoung Challenge by African Leaders
Tesfalem H. Yemane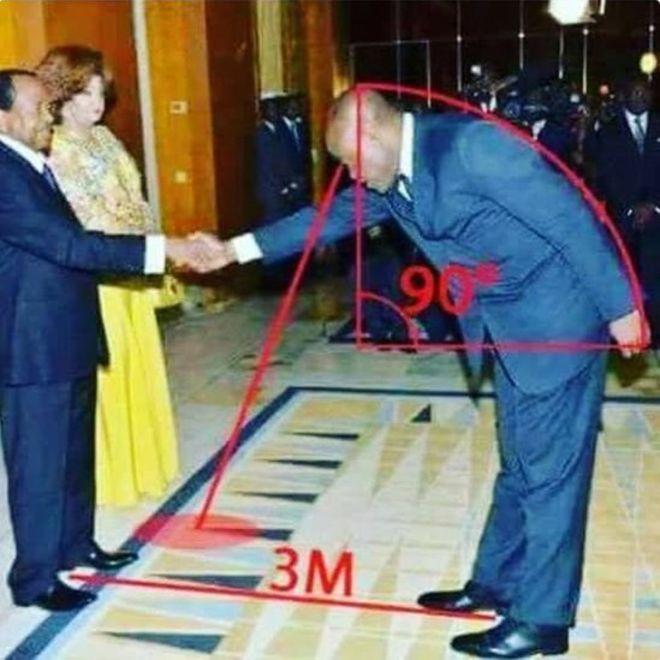 In December 2016, Cameroon's Sports Minister Pierre Ismael Bidoung Mpkatt made himself the subject of meme in social media when he embarrassingly bowed and shook the hands of the country's President. To this absurdity, there is a metaphorically similar pattern of how African leaders position themselves vis-a-vis their international counterparts, whether it is their Chinese comrades, EU darlings and the chest-puffing American delegates.
While many are outraged by the slave trade and commodification of Sub-Saharan migrants in Libya, African leaders  welcomed (I use the word 'welcome' as a euphemism for crawling with their bowels in hands for EU money) in late November, their EU counterparts in Ivory Coast to chart out what some have foolishly described as the African Marshal Plan. Talk of African Marshall Plan is no less than a dressed up colonial delusion with the intention of benefiting from the fleeting power asymmetry between EU and Africa, exploiting African natural resources, and outsourcing EU's responsibility of curing migration by wooing authoritarian regimes in order to confine African migrants in refugee camps in Africa.
In recent years, migration from Africa [and mitigating it] has particularly become of an agenda of high politics in Afro-EU relations. In 2014 and 2015 respectively, similar containment policies such as the Khartoum Process and Valletta Summit were designed with so much fanfare of synergizing policies for the betterment of life of African youth. In reality, however, they are part of the political calculus of externalizing EU's borders to sovereign states by setting up detention centres in countries such Sudan, Libya, Niger and Chad.
To the dismay of Afro-optimists, such summits are also an opportunity to some leaders in Africa as money extracting rentierist opportunities. For example, during the Valletta Summit in 2015, a few African leaders unashamedly complained of EU money as not being sufficient in tackling migration from Africa. The EU has been giving its taxpayers' money to authoritarian regimes in North and the Horn of Africa in the hope of buying their cooperation in curbing migration. And buy did it, as it has been evidenced by the forced deportations of Eritrean refugees from Sudan in violation of international humanitarian and refugee laws against refoulement.
The only African leader and a beacon of light for Ghana, I must add, who has earned my respect by rejecting the militarization of EU's development aid policy is Ghana's President Nana Addo Dankwa Akufo-Addo.
The marked contrast with which Europe and Africa advance their citizens' rights is glaringly stark. This can be observed from the ongoing divorce negotiations between the EU and UK. The rights of EU citizens in the UK and that of UK citizens in  EU member states in the aftermath of the UK's decision to leave the EU has become one of the most concerning issues  with the potential to set back the progress of other areas of the negotiations. And this has very much been the facet of the recent breakthrough in Brexit negotiations.  It is indeed good to see how both sides attempt to secure the rights of their citizens after the divorce. In regards to EU-Afro trade and investment relations, one can only hope that EU's strategy that says 'everything but arms' does that mean African refugees and immigrants are arms.
As an African, I am astonished to see how African leaders have become so indifferent to the miseries of their own citizens. The recent EU-Africa Summit press releases and statements clearly indicate that this Summit does not set out to address the underlying causes of political and economic problems in Africa. The EU is strategizing its cynical policies of curbing Europe bound African migrants and our wonderful African leaders seem to wilfully opt to such policy of containment. Policies such as these do not originate in Africa and thus are unreflective of the wishes and dreams of the African youth. They are policies discussed and designed behind closed doors in European capitals and sold to desperate African leaders under the cloak of investment, job creation and development cooperation. According to Henning Melber of the Nordic Africa Institute, such development plan for Africa is condescending to Africa and Africans. And he goes as far as to say; 'leaders of the rich world are only interested in Africa when it comes to mitigating terrorism, curbing African migration routes to Europe and as everlasting source of natural resources.' The EU-Africa Summit and one of its cleverly themed discussion points; 'Investment in Youth for Accelerated and Inclusive real growth and sustainable development' were therefore a case of EU's high-church realist policy guised under untenable investment and trade promises.
It is such a poignant truth but the sole purpose of many African leaders has been reduced to jostling for a respectable position in the group photos and extending caps in hands for EU's money. In the current scheme of things, the African leaders have turned the continent into what many rightly describe as laboratory for international machinations and a sop to EU money to maintain a facade of stability and curb migration. In Africa today, there is no much that African leaders can impact by way of real policy designs and changes that lie at the heart of what Africa and Africans need. And to me, this summit is more of a 'reunion of nostalgic colonials', so as to borrow Bertrand Taithe's phrase. Africa is not poor, but its leadership is; and they can blame none but themselves for their political agency in creating the misery of Africans cannot be neglected.
---