Corruption Perceptions List 2016
Eritrea ranks 164th out of 176 countries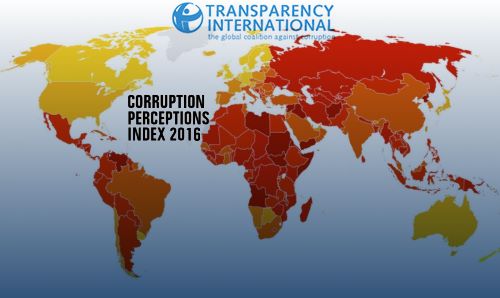 With last November's launch of Transparency International's Corruption Perceptions Index 2016, it's timely to assess Eritrea's stand in the world and understand what the PFDJ has done to the country with regards to this socio-economic malaise that has been ruining the country's economy for the last two decades.
The TI CPI ranks countries in terms of the degree to which corruption is perceived to exist among public officials and politicians. It is a composite index, a poll of polls, drawing on corruption-related data from expert and business surveys carried out by a variety of independent and reputable institutions. The CPI reflects views from around the world, including those of experts who are living in the countries evaluated.
According to the list and accompanying analysis, Eritrea obtained F, the lowest percentage score.  That means Eritrea is one of the most corrupt countries in the world.  
The entry that dscribes Eritrea reads as follows:  "In Eritrea, the country has all the trappings of a brutal military dictatorship. Power is concentrated in the hands of President Isaias Afwerki, in office since 1991, conscription is mandatory, and the military is heavily involved in the economy."
To access the report visit the following sites:
The Analysis - based on information collected in 2015.    http://government.defenceindex.org/downloads/docs/eritrea.pdf
The assessment for the "Government Defence Anti-Corruption Index 2015 on Eritrea" is based on 76 issues that cover various aspects of governance.  The detailed assessment can be found at: http://government.defenceindex.org/generate-report.php?country_id=5583
Literally, Eritrea scored zero on all aspects of the study. 
José Ugaz, Chair of Transparency International, said the following: "In too many countries, people are deprived of their most basic needs and go to bed hungry every night because of corruption, while the powerful and corrupt enjoy lavish lifestyles with impunity."
---