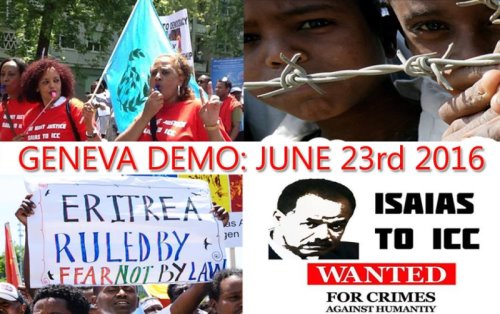 Thousands of Eritrean refugees and European-Eritreans from all over Europe will be marching in Geneva, on the 23rd of June 2016, in support of the forthcoming UN Commission of Inquiry report, which is expected to allot accountability from perpetrators of the human rights violations being committed in Eritrea.
The UN Commission of Inquiry on Eritrea (COIE) will be reporting to the Human Rights Council next month, for the second time since its establishment in 2014. Having interviewed hundreds of Eritreans globally, last year, the COIE reported "possible crimes against humanity" being committed by the Eritrean regime. In its second report, the COIE is expected to focus on attributing responsibility and ensuring full accountability for crimes against humanity perpetrated in Eritrea.
Although the Eritrean regime refused to allow the commission inside the country, ruling-party officials and functionaries have been orchestrating a global campaign to denounce the COIE's findings by pressuring diaspora Eritreans to sign a petition initiated by Embassies worldwide.
It is to be recalled that, despite promises made by the Eritrean government to limit the national service to its legal 18-month limit, the Eritrean government has since reneged on this promise. Overall, there have been no improvements on the human rights situation in Eritrea, and people continue to flee the country in droves.
This year's march, to be held on June 23, 2016, will be a continuation of the largely successful and inspiring event held last year, with an even larger turnout of Eritreans expected. Campaigners, activists, and musicians are said to be working relentlessly, mobilizing a wide cross-section of their respective communities from across Europe and beyond. Disabled veterans, elderly former fighters, women, youth fleeing indefinite conscription, young people born and raised in the diaspora as well as friends and families of victims of the regime will be joined by politicians, diplomats, journalists, broadcasters and singers who have abandoned the regime in recent years.
The march will take place at a time when Eritrea will be marking its 25th Independence jubilee, taking place on May 24. Organizers are dedicating the event to all those who paid a hefty price to secure Eritrea's independence, pledging to uphold their principle and fight for justice in Eritrea.
For more information, please visit: http://StopSlaveryInEritrea.com/
Or contact us on: This email address is being protected from spambots. You need JavaScript enabled to view it.
Feruz +44 (0) 7904 897 448
---