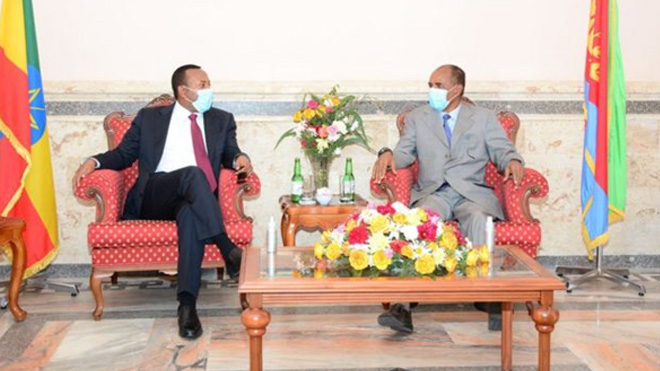 According to BBC News (Tigrinya), Prime Minister Abiy Ahmed of Ethiopia has flown to Asmara to meet with Eritrean officials today. President Isaias Afwerki welcomed PM Abiy at Asmara International Airport.
Domestic news media state that both Isaias and Abiy will discuss ways to enhance bilateral relations. The two leaders have been visiting each other since the signing of the Peace Accord of 2018.
Ethiopia's Prime Minister, Dr. Abiy Ahmed, arrived in Asmara in mid morning hours today for a working visit to the country. President Isaias Afwerki accorded warm welcome to the Prime Minister and his delegation on arrival at Asmara International Airport pic.twitter.com/BQXP7a1xxD

— Yemane G. Meskel (@hawelti) July 18, 2020
PM Abiy is accompanied by Ambassador Redwan Hussen and government spokesman Tagesse Chaffo. Ambassador Redwan was the first Ethiopian ambassador to Eritrea after the peace treaty of 2018; he was then suddenly pulled out of Eritrea after serving just for a year to join the Foreign Ministry.
President Isaias visited Egypt in June of this year; and before that he visited Ethiopia in May. Analysts are saying that he is trying to help in the negotiations that are taking place between Ethiopia, Sudan and Egypt concerning the Grand Ethiopian Renaissance Dam. Technical and legal disagreements regarding the dam still persist.
Why doesn't President Isaias focus on domestic problems that are driving tens of thousands of Eritreans to flee the country?
It is to be remembered that Ethiopia and Eritrea went to war in 1998-2000, a conflict mostly known as 'the Badme War'.  Eritrea lost substantial territory by the end of the conflict and it never regained them since then. The bitter dispute between the two countries cost them more that 70,000 between them. 
At a summit back in July 2018 in Asmara, Eritrea's President Isaias Afwerki and Ethiopia's Prime Minister Abiy Ahmed signed a joint declaration formally ending the state of war between Ethiopia and Eritrea. Border checkpoints were opened for a brief moment during which citizens from both sides of the border started trading.  Opening the border also gave Eritreans and Ethiopians the opportunity to assess both countries' developments.  Relaxed border crossing was detrimental to Eritrea as tens of thousands of its citizens started fleeing to Ethiopia.  Embarrassed by the unexpected development, President Isaias gave orders to close all border crossings right away.
Many observers say that the 2018 Peace Accord was not comprehensive as Ethiopia has not pulled out from Eritrean territory yet.
---