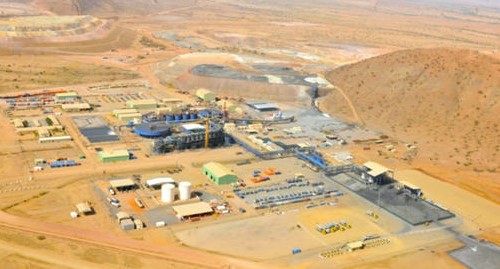 VANCOUVER/TORONTO, May 17 (Reuters) – The weak human rights record of one of Africa's poorest countries is coming between Lundin Mining Corp and its pursuit of a prized European copper and gold asset.
Cash-rich Lundin's latest run at fellow Canadian miner Nevsun Resources Ltd is designed to bag the Timok project in Serbia, but it had to bring on a partner to pick up Nevsun's Bisha mine in Eritrea.
That is because Lundin Mining's board of directors, chaired by billionaire resources tycoon Lukas Lundin, refuses to invest in Eritrea, according to four people familiar with, but not able to speak publicly on, the matter.
They will not own the Eritrean mine "for even one second," one of the people said. That stance is not necessarily a deal breaker, said an investor who declined to be named.
Lundin Mining's biggest shareholder is a private investment company owned by a Lundin family trust, with a near 13-percent stake, Thomson Reuters data shows.
Nevsun, Lundin and partner Euro Sun Mining Inc, a tiny mine developer whose stock several Nevsun shareholders are not keen to own, declined to comment.
Last week, Lundin Mining disclosed that it partnered with Euro Sun on a C$1.5 billion ($1.17 billion) cash and stock proposal to buy Nevsun. Under that plan, Lundin would own the European assets of Nevsun, including Timok, and Euro Sun would own the rest of Nevsun, including the Bisha mine in Eritrea.
Nevsun rejected the "inadequate" proposal, which is not a formal bid.
Eritrea's national service program was likened "to slavery in its effects" by the United Nations in 2015, an allegation the government rejects.Ruled by a former Marxist guerrilla leader since its independence from Ethiopia, Eritrea sees conscription as crucial to its security.
In a 2014 lawsuit, Eritreans allege they were forced to work at Nevsun's Bisha mine between 2008 and 2012. Nevsun, which appealed to Canada's Supreme Court in January to throw out the case, has said its investment in Eritrea brings social and economic benefits.
Lundin Mining belongs to the Swedish-Canadian Lundin family's global empire of copper, diamond, gold and oil companies, which has previously invested in such higher-risk jurisdictions as the Democratic Republic of Congo.
'Cautious'
The family has become more cautious, the people said, with an ongoing investigation into allegations that Stockholm-listed Lundin Petroleum was complicit in crimes against international humanitarian law in Sudan between 1997 and 2003. Lundin Petroleum denies any wrongdoing.
In January, police searched company offices in Stockholm and Geneva and the Lundin family office in Geneva. No charges have been laid in the investigation, which began in 2010.
"Lukas is highly sensitive to this," a second person said.
Several sizeable Nevsun shareholders are concerned about Lundin's tie-up with Euro Sun, a potential hurdle to any future deal. Euro Sun has no operations and its core asset is an undeveloped Romanian gold property.
Euro Sun "is not exactly a piece of paper that I am looking forward to holding for a long time," said Nevsun shareholder Adrian Day, president of Adrian Day Asset Management.
A better partner would have been a Chinese miner, which tend to have bigger risk appetites, with state backing for a cash bid, said Rick Rule, CEO of Sprott U.S. Holdings, a unit of Nevsun's eighth-largest shareholder, Sprott Inc.
Lundin Mining has been trying to acquire the high-grade Timok property for two years to boost production. Its proposal with Euro Sun is the fourth advance that Nevsun has rejected this year, but the first to include the Eritrean mine.
Lifted by hopes of a "white knight" bidder, Nevsun stock neared C$5 a share on the Lundin-Euro Sun proposal last week, but by Thursday had deflated to C$4.45.
"For many companies out there, Bisha is the poison pill," said Filipe Martins, analyst at Nevsun's second-biggest shareholder, M&G Investment, which has called the Lundin-Euro Sun proposal "pretty fair".
($1 = 1.2778 Canadian dollars)
(Reporting by Susan Taylor in Toronto and Nicole Mordant in Vancouver; Additional reporting by John Tilak in Toronto; Editing by Susan Thomas)
---