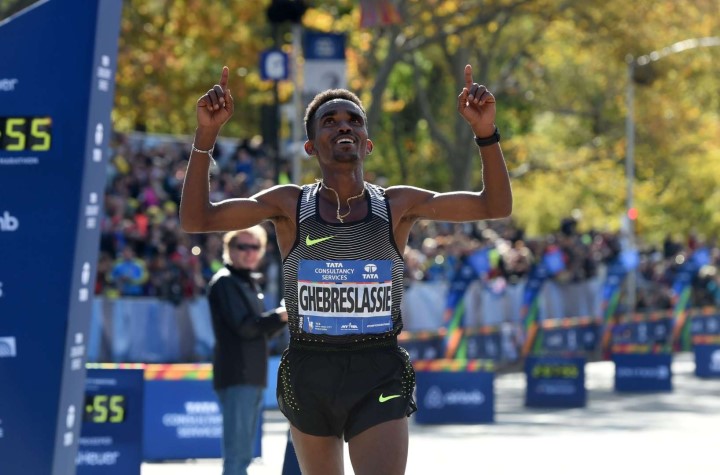 NEW YORK (AP) -- Quite a run at the New York City Marathon for Mary Keitany. Pretty swift debut for Ghirmay Ghebreslassie, too.
Keitany won the race for the third straight time Sunday, pulling away with more than 10 miles to go and breezing home to the finish line in Central Park.
"Alone in the streets," the 34-year-old Kenyan said.
Except for the cheering fans, of course, who packed the course to root on the record-setting 52,049 runners from 120 nations as they wound through all five of the city's boroughs.
At 20, Ghebreslassie became the youngest men's winner in this event. Alberto Salazar (1980) and Tom Fleming (1973) won as 22-year-olds.
Ghebreslassie was the first native of Eritrea to win the New York marathon. He finished his debut in 2:07:51.
"I'm really proud of it," he said.
Keitany defended her title in 2 hours, 24 minutes, 26 seconds, one second behind her time last year. She beat countrywoman Sally Kipyego by nearly four minutes, and became the first woman to win this race three times in a row since Grete Waitz took five straight from 1982-86.
Keitany made her move a lot earlier than last year, when she distanced herself from the field at the 21st mile.
This time, when she exited the Queensboro Bridge and entered Manhattan, the only people near Keitany were a police escort and the fans.
"I was not imagining of any time," she said. "I just went early."
Keitany pulled away after 15 miles and was the first woman to win by more than 3 1/2 minutes since Waitz finished 3:52 ahead of Patti Catalano in 1980.
"Those two last miles can be difficult," said Kipyego, who moved into second in the 24th mile.
"I just kept telling myself to look forward, don't worry about who's behind you, and keep your head down and try to stay in rhythm," she said.
Molly Huddle of the United States was third in 2:28:13 in her marathon debut.
Keitany was two seconds ahead through the 14th mile, then was 20 seconds in front through the 15-mile mark as the race crossed into Manhattan.
Keitany kept up her pace running on First Avenue and after 20 miles led by more than two minutes.
After heading down Fifth Avenue, she entered Central Park at Columbus Circle and coasted home, short of the women's record of 2:22:31 by Kenya's Margaret Okayo in 2003.
Keitany crossed the finish line and hugged her two children and her family.
"I was happy for them to be in New York," she said.
Huddle finished in the top three after setting an American record at the 10,000 meters in the Rio Olympics.
For most of the course, the men's field was a three-man race between Ghebreslassie, Kenya's Lucas Rotich and Ethiopia's Lelisa Desisa.
By mile 20, Ghebreslassie gradually began pulling away. He beat Rotich by 62 seconds and Abdi Abdirahman was third in 2:11:23.
Defending champion Stanley Biwott of Kenya withdrew at the 10-mile mark with a right calf injury. He also dropped out in the Rio Olympics after getting sick.
Desisa, who was the runner-up in New York in 2014 and a two-time Boston Marathon winner, dropped out at the 22nd mile.
Tatyana McFadden took the women's wheelchair race, keeping up her long winning streak. The 27-year-old finished in 1:47:43 and swept the London, Boston, Chicago and New York events for the fourth straight year, giving her 17 straight victories overall in major marathons.
McFadden won six medals at the Rio Paralympic Games.
Marcel Hug of Switzerland won for the second year in a row in the men's wheelchair division. He edged Australia's Kurt Fearnley by sixth-tenths of a second, repeating their close finish at last month's Chicago marathon.
---