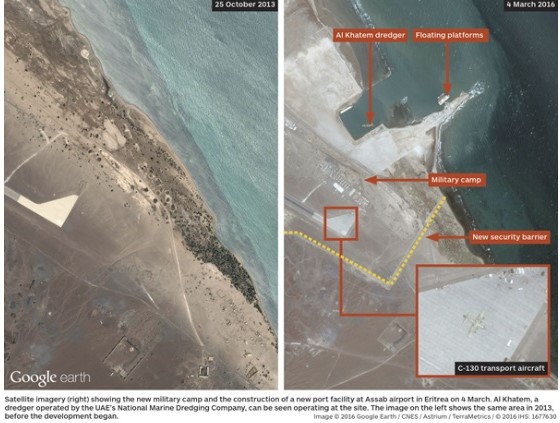 United Nations sanctions monitors warned in an annual report released on Friday that possible foreign support for a new military base and seaport in Eritrea and the presence of foreign weapons and equipment were likely in violation of an arms embargo.
The monitors told the U.N. Security Council last year that Saudi Arabia and the United Arab Emirates had established a military presence in Eritrea as part of the Saudi-led campaign against Houthi rebels in Yemen, which lies just 40 km (25 miles) across the Red Sea from the poor Horn of Africa nation.
They said the use of Eritrea's land, waters and airspace by other countries to conduct military operations in a third state was not a sanctions violation, but warned that "compensation diverted directly or indirectly towards activities that threatened peace and security in the region, or for the benefit of the Eritrean military, would constitute a violation."
In the past year the U.N. monitors collected evidence, including the construction of a new military base at Assab airport and a new seaport next to it, indicating "there may have been external support for infrastructure development that could benefit the Eritrean military."
The monitors said they have also documented the presence in Eritrea "whether for training or transit, of armed personnel and related military and naval equipment of various Member States other than Saudi Arabia and the United Arab Emirates."
The U.N. sanctions monitors determined the current terms of the U.N. arms embargo does not allow for such activities and recommended that the Security Council provide advice to U.N. states on compliance with the embargo.
They said it "could be reasonably determined" that foreign support for the construction of permanent military installations in Eritrea constitutes the provision of technical assistance, training, financial and other assistance to military activities, which is banned under the arms embargo.The Saudi Arabia and United Arab Emirates missions to the United Nations were not immediately available to comment on the report by the U.N. sanctions monitors.
Eritrea's Foreign Minister Osman Saleh Mohammed told Reuters earlier this year that the United Arab Emirates now uses Eritrean "logistical facilities." The UAE has also trained 4,000 Yemeni fighters in Assab, Eritrea.
The U.N. sanctions on Eritrea were mainly imposed following accusations it backed Somalia's Islamist al Shabaab militants, a charge Asmara denies. The U.N. monitors said in the latest report that they had - for the third year in a row - not found any firm evidence of such support.
Eritrea has refused to engage with the U.N. monitors and they have been unable to visit the country.
(Reporting by Michelle Nichols; Editing by Bill Rigby)
---