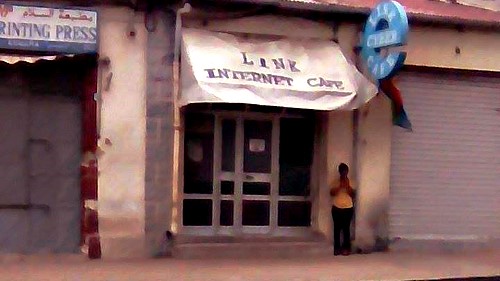 (Asmara 07-09-2016) Freedom Friday (Arbi Harnet) Activists today reported that security officers are monitoring activities at internet cafes in the capital and have been taking actions against those they deemed were engaged in 'suspicious activities'. On 31st of August two young Eritreans were detained and taken to undisclosed location, by security officers from the Link Internet Café in Asmara (picture enclosed). As they were detaining them the security officers stated that the reason for their actions were the length of time the duo spent at the internet café.
According to Arbi Harnet activists, also present at the internet café during the event, the people who identified themselves as National Security Agents, accused the youth of either being opposition activists or engaged in 'illegal currency exchanges', on the count of the length of time they had spent on- line.
The use of internet cafes by young people in Eritrea, and particularly in the capital Asmara has been on the rise over the last few months as a result of the introduction of Wi-Fi. The relative rise has been particularly among smart phone users who access the net from their private mobile phones. However the period has also seen a rise in the activities of National Security Agents, monitoring the length of time people spend online.
Activists said ' we had even received information that some proprietors of internet cafes have been strictly waned to monitor and inform the activities of their customers and the experience of the youth taken to custody from the Link Internet Café in Asmara confirms that information' they added 'we warn all citizens to be extra cautious when using the Capital's internet Cafes'.
---