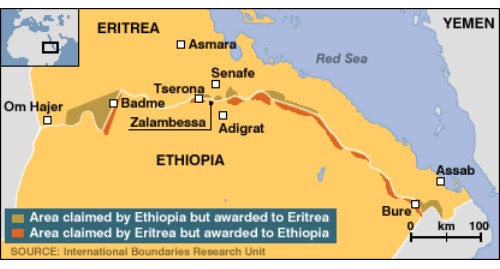 Heavy fighting has broken out on the Tsorena front of Ethiopian-Eritrean border, HornAffairs has reported, quoting "multiple sources" .
According to the Awramba Times, fighting is taking place in two separate fronts, Tsorena and Zalanbesa.
Addis Standard tweeted that Eritrea launched a "surprise attack on Ethiopia last night along the border" in southern Eritrea, but the government spokesperson has "no solid information as of yet".
More details to follow
sources tell AS #Eritrea launched a surprise attack on #Ethiopia last night along the border in southern Eritrea.No official confrmtion yet.

— Addis Standard (@addisstandard) June 12, 2016
#Breaking – reports indicate heavy fighting along the #Ethiopia – #Eritrea Border. But gov. spokesperson tells AS no solid info as of yet

— Addis Standard (@addisstandard) June 12, 2016
---