Mered Medhanie, who styles himself on Muammar Gaddafi, is accused of being partly responsible for the 2013 Lampedusa tragedy.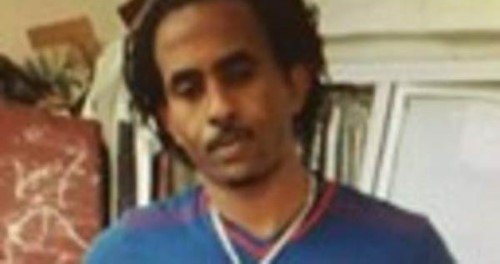 One of the world's most wanted people smugglers has been arrested in Sudan, the UK's National Crime Agency (NCA) has revealed.
Mered Medhanie, known as "The General", is believed to be the mastermind behind a major criminal organisation responsible for smuggling thousands of migrants from the Middle East and Africa to Europe.
The 35-year-old Eritrean is accused of being partly responsible for the 2013 Lampedusa tragedy in which at least 359 migrants lost their lives when their boat capsized of the Italian coast.
Medhanie, who was wanted by authorities in Italy, has now been extradited to Rome where he will appear before a judge.
He featured in a Sky News report last year in which Special Correspondent Alex Crawford traced the journey taken by tens of thousands of migrants attempting to reach Europe.
The programme revealed how Italian authorities tapped the phones of key figures in a smuggling gang operating out of Libya.
They recorded Medhanie bragging about bribing guards in detention centres in Libya to hand over migrants to him. The gang then held them to ransom, raping and torturing them until their relatives would pay up for the next leg of their journey.
Medhanie, who got his nickname because he styles himself on former Libyan dictator Muammar Gaddafi, was detained by Sudanese authorities on 24 May after the NCA tracked him down to an address in the El Diem area of Sudan's capital Khartoum.
Tom Dowdall, NCA Deputy Director, said: "Medhanie is a prolific people smuggler and has absolute disregard for human life.
"Although he was operating thousands of miles away, his criminal activity was impacting the UK.
"Medhanie no doubt thought he was beyond the reach of European justice but we were able to support the Italians by tracking him down to Sudan."
The arrest followed an international operation involving the NCA, GCHQ, and Sudanese and Italian authorities, the NCA said in a statement
---