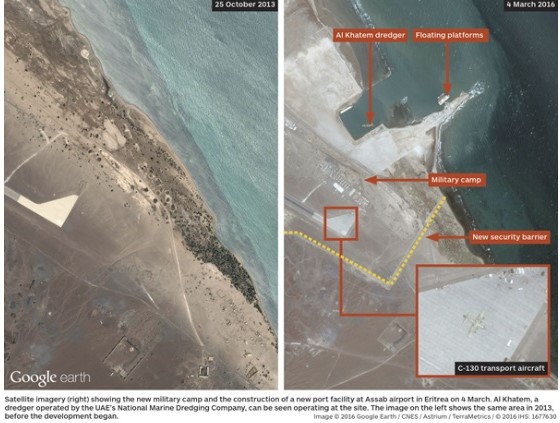 Jeremy Binnie, London - IHS Jane's Defence Weekly
The United Arab Emirates (UAE) appears to be constructing a new port next to Assab International Airport in Eritrea, which could become its first permanent military base in a foreign country.
Satellite imagery shows rapid progress has been made since work began sometime after September 2015. A square of coastline measuring about 250x250 m has already been excavated and dredged, while a pier and/or breakwater is being constructed and already extends over 700 m from the original coastline.
IHS Maritime & Trade data show that two vessels are currently working at the site. While neither have IMO numbers, one that has been at the site since 16 February is using the MMSI number 470331100 and the name Al Khatem .
MMSI numbers that begin with the digits 470 are assigned to UAE-flagged vessels and the UAE's National Marine Dredging Company says on its website that it operates a heavy duty cutter suction dredger called Al Khatem .
Eritrea has little need of a new port in the Assab area, given that the existing one 12 km to the southeast of the construction site was rarely visited until the UAE's navy began to use it last year to support the country's military operation in Yemen.
IHS Jane's has published satellite imagery showing most of the naval vessels at the existing port since 21 September 2015 have been Emirati landing ships. IHS Maritime & Trade data show that many of the commercial vessels that docked there over the same period came from the UAE's naval base at Fujairah. This indicated that the UAE is using Assab as a logistics hub where supplies are transferred from commercial to naval vessels for onward shipment to Yemen.
But satellite imagery from 4 March shows one of the UAE navy's Baynunah-class corvettes docked at Assab, suggesting it is also supporting warships involved in enforcing the blockade on Yemen.
---