(24/11/2014) An Eritrean website, reputed for pushing propaganda for the Eritrean regime has today announced that the Eritrean national service will be reinstated to its legally sanctioned 18 months limit. The website says the news comes from a meeting conducted by Mr Berhane Gebrehiwet Head of public affairs at the Eritrean Embassy in Washington DC.
The report written in Tigrigna, quoting Adal Radio, states that Mr Gebrehiwet made the announcement at a seminar he convened for Eritreans. However the exact nature, time or location of the said seminar isn't disclosed.
Stating the rationale for the policy change Mr Gebrehiwet claims that the regime has been working day and night to remove the obstacles that resulted in the national service being stretched to an indefinite period of time. The indefinite nature of the national service coupled with the hard labour that recruits are required to carryout has led many Eritreans and friends of Eritreans to condemn it as modern day slavery.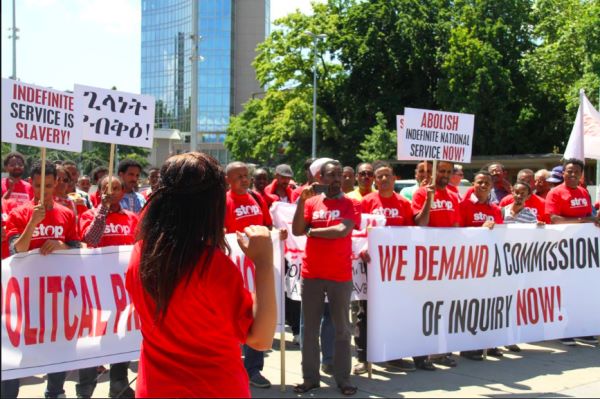 Thousands of young Eritreans flee their country every year escaping the indefinite national service. In 2014 over 37,000 Eritreans, mostly 18-24 year-olds, sought asylum in Europe. This represents a three-fold increase in less than a year. Tens of thousands more remain destitute across  the region particularly in Ethiopia and Sudan. The unprecedented mass exodus is fuelled by the desperation of young Eritreans to escape the national service and its magnitude as well as the increasingly dangerous risks taken in the process have become topical and a causes for concern in Europe and across the globe. This situation seems to have created a rare occasion for the regime that is normally immune to international or public pressure, to feel a level of pressure and hence a need to avert  some of that pressure by making wild promises that is has no intentions to keep.
Despite the fact that the current announcement was made public on the website, over the weekend there are no official announcement from Asmara as yet. Stop National Service Slavery Campaign, considers the announcement nothing but a hoax tactical move from a regime that is facing considerable international and public pressure from the Eritrean diaspora.
Stop National Service Slavery Campaign was established by concerned Eritreans in the diaspora to fight the appalling practices of indefinite national service and forced hard labour in Eritrea.
For more information, please visit:
http://StopSlaveryInEritrea.com/
contact us on: This email address is being protected from spambots. You need JavaScript enabled to view it.
Feruz Werede +44 (0) 7904 897 448
---