A heavy fighting is going on the Tsorena front of Ethiopian Eritrean border, multiple sources confirmed to HornAffairs.
Fighting in the Tsorena area of the border started since 5 am at dawn and it is still ongoing.
The sound of heavy artilleries is heard as far as Zalambesa to the east, locals confirmed.
Ethiopian troops reportedly advanced into Eritrean land in some areas and brought captives to the border town Gerhu-sernay, according to one local source.
HornAffairs also learned a mechanized division stationed in Mekele is partially mobilizing to the border area.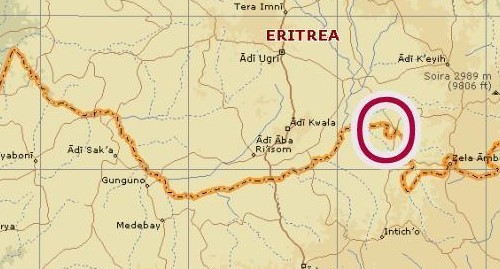 The skirmish expanded eastwards in mid-day.
In particular, the areas called Akran, Kolo berendo, and Kinin Kinito experienced fighting, HornAffairs' sources disclosed. 
Civilians in Egela area are told to evacuate the area.
There has not been shooting Zalambesa area, but the military warned residents not to move outside town.
In Sheraro, west of Tsorena and close to Badme, there are unconfirmed reports of shootings but doesn't appear serious. However, people reported unusual military movement.
It was not immediately clear how the fighting started.
Sources claimed the Eritreans ambushed Ethiopian troops while the latter were holding a football match among Brigades. However, it is not clear whether the match was this morning or in previous days.
---