Djibouti

* France says no military solution to border dispute

By Louis Charbonneau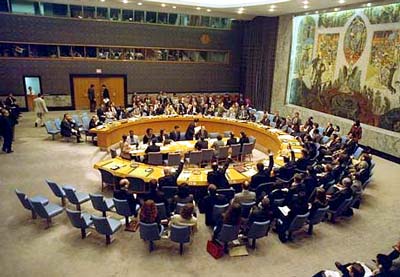 UNITED NATIONS, April 7 (Reuters) - The U.N. Security Council declared on Tuesday that Eritrea has ignored its demands for a withdrawal of all its troops from its Horn of Africa neighbor Djibouti.
The 15-nation council unanimously passed resolution 1862 in January, which ordered Eritrea to withdraw its forces from its tiny neighbor within five weeks to the positions they held before fighting broke out between the two states last June.
If Eritrea continues to defy U.N. demands, the council has the power to impose economic or political sanctions.
Claude Heller, Mexico's U.N. ambassador who holds the council's rotating presidency this month, said the council agreed unanimously that Eritrea had also failed to comply with another council demand that it begin talks with Djibouti aimed at peacefully resolving their border dispute.
"They have authorized me as the president of the council to meet the permanent representative for Eritrea in order to express the concerns ... of the Security Council," he said.
Eritrea's U.N. ambassador was not immediately available for comment.
The two nations, on a crucial shipping lane linking Europe to Asia, clashed in June after Djibouti accused Eritrea of moving troops across the border. A dozen Djiboutian soldiers were killed in the fighting. Eritrea denies the accusations.
French Ambassador Jean-Maurice Ripert urged Eritrea to fulfill its obligations under resolution 1862, adding that "there is no military solution to this crisis."
Djibouti hosts France's largest military base in Africa and is also a major U.S. base. The country has said it would not allow itself to be pushed into a war with Eritrea.
It has been Ethiopia's main gateway for trade since it lost the ports of Assab and Masawa when Eritrea won independence in the early 1990s after a 30-year war.
Eritrea accuses Security Council members of ignoring what it calls breaches of international law by Ethiopia, with which it fought a 1998-2000 border war that killed 70,000 people. (Editing by Alan Elsner)
Source: reuters.com

---