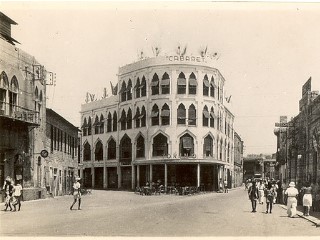 …My Reflections on the Brighton Peace Conference
There was a series of rare warm evenings on the balconies of the Metropole hotel in Brighton… Last weekend, with conversations that were free flowing, the laughter the teasing the coming together of thought, ideas and ideologies, I could easily picture us on the beaches of Massawa chattering like this (the drinks would be cheaper!)… young and old, men and women, people of faith and some of none, it was such an amazing atmosphere that restored my faith in Eritreans' ability to turn our story round yet again…
… Such is the power of an idea coupled with determination and sheer hard work that enabled seventy Eritreans from all over the world and from all aspects of Eritreaness to grapple with complex and difficult issues and come to an understanding that is undoubtedly shared by everyone there. We are indeed one people with many differences and some contradictions but with enough shared heritage to glue us together and all this was expressed outside meetings and in such informal settings…
If it weren't the laughter and jokes… it was the singing and sharing of food and drink… if it wasn't the sharing of old memories it was the 'old v young' banter and the snide on the ways of the English (I was on the receiving end of so many of these jokes). Hassan Mohamed Ali telling us about the Asmara theatre society's antics had us in stitches, whilst Feven Gideon's melodic voice moved us to near tears…
Together we marked Independence day and dedicated the evening to the Disabled veterans and first generation fighters who are languishing in Sudan… Samuel Akaka presented his speech on the occasion followed by Omar Jaber's eloquent impromptu speech of his recollections of the very first independence day celebration… we all prayed for (I am sure the atheists secretly joined the unuttered prayers too) ; 'next year in Asmara!'
I am writing this short note to thank all my colleagues who worked with me over the months since last December, when we undertook the task of drafting the charter that was ratified last weekend, together we faced all forms of vilification and deliberate attempts to derail us. We faced many evenings of not knowing if anyone would actually turn up at the conference and the pressure of all that pushed me to near despair on many occasions. From them I learnt the power of dedicating oneself to a cause that brings people together…we learnt to see things from each other's perspectives and appreciated the view… Salah Aboray's Tigrigna improved immensely simply from sitting next to Samuel Akaka and Dawit Mesfin seems to have learnt a lot of Arabic through osmosis from Ambassador Hummed Kullu… I still need translation from Arabic to Tigrigna and then to Tinglish… which eventually became the group's working language!
I also learnt a huge amount from Pauls' BeAtay's visionary leadership and unrelenting work ethics. The formulae of changing ideas into action… articulation and sheer hard work… the magic of setting goals and following it through come what may…
Finally I must express my utter appreciation to every delegate whose appearance at the beach front venue last Friday finally brought to an end the recurring nightmare of 'no show' that had plagued me for the past few weeks. The people who sat in their respective tables leafing through the conference packs had actually travelled through; Strikes and volcanic ash and more, but there they were in a response to an invitation that a group of us sent through from London… I thank and thank them again for making these puny steps at having a go in charting a different course for the Eritrean struggle. They said 'yes' to a call that germinated from an idea and in the hope that one day it will grow into a huge tree.
The impressive list of speakers and facilitators was a testament to the resourcefulness of Eritreans… an array of professors in many disciplines graced the conference with their presence and their commitment to work for peace in Eritrea and the horn of Africa.
Representatives of various human and democratic rights groups also added to the vibrancy of the occasion, together with their colleagues from different media groups… there were correspondents from TV Zete, Radio Erena, VOMD, Asmarino.com and a London based group who had an amazing set up and were doing studio type interviews and told me off for interrupting their recording several times! (Amal, Sami and Suraphiel… I will behave better next time…I promise!)
I was absolutely shattered by the end of Sunday evening but I am sure I fell asleep with a smile on my face… going over the conversations I had with various people over the course of the conference. I told a group of people that I was beginning to wonder if I had imagined the oneness of Eritreans and our ability to sustain a coherent identity over the last few months… the Eritrea and the Eritrean I grew up as seemed fast escaping and fragmenting into trenched mentality of 'them' and 'us'… but last weekend told me every thing I needed to know about the Eritrea we still have…the Eritrea that was worth fighting for then and the Eritrea that is worth fighting for now… the next time anyone tells me about Eritrea turning into a Somalia… I am going to ask them to go find their own Somalia!
Finally I want to invite all peace loving Eritreans to join us in our quest to ensuring that we pass on an Eritrea at peace with itself and with its neighbours to our children.
Selam
---