How to pair dreams with reality
For our Veterans
 Like all Eritreans hit by a gradual pain of living under occupation and the sudden personal avalanche of depression of watching my husband being taken away to jail by the same occupier, molded my being.  This pain became deeper because someone that crossed my way in a street of Asmara spit in my face, it made me run to my father's house. I remember watching my proud father's face adding wrinkles as I narrated what happened to me.
And then I remember him telling me "My dear daughter, all this pain can make you a good heart human being or turn you into a criminal.  I beg you to be a good human being"
Based on my own experience, I wonder what our Veterans went through.  Our Veterans' major fear was the wellbeing of their people and not their own safety.  For, safety was something they left behind willingly and exposed themselves to danger.  They fought a war of independence, they healed civilians around them and they gave hope.  They stood tall and strong while agony of burring their comrades with bare hands was a task they took at heart and honored.  Eritrean Veterans never left their wounded behind.  Never failed to salute the grave of their fellow fallen Veterans.
Then, I personally witnessed their return home. The euphoria of walking into Asmara and being celebrated by all became a postscript of the war.  Just another chapter.   What the system did not do was to consider and prepare for the mental wounds of our Veterans.  Mental wounds and traumatic brain injury outnumber their physical wounds.  Our Veterans still live with those wounds and yet, they put a smile upfront to this day.  Just like they did when they were surrounded by a powerful enemy backed by even more powerful superpowers.
I read somewhere that the US Veterans Department call the post trauma of war "the war's signature".  How true!
Eritrean Veterans were and still are honored by all Eritreans.  But no study has ever been done about substance abuse and suicide among our Veterans.  These tragedies are only going steadily upward.
So, I ask ALL of you – Eritrean Veterans – to help me and guide me to find the less fortunate among you all.  Wherever they might be.
We might not be able to resolve all their problems, but I hope our will to make them feel that they are never forgotten and  that we care for them, might make us walk  soon – all while holding hands with each other - towards a department where our wounded Veterans will receive the care they owned with each battle they fought.
Paralyzed Eritrean Veteran – living in Kassala Sudan for over 30 years – he earned the right to be home and the right to a day called "Eritrean Veterans' Day"
 No education and/or skills for high paying jobs made our Veterans accept all menial jobs, only to find themselves in a spiral that is difficult to come out from. The unpredictable job market makes it difficult for many Veterans to find a steady employment.
 Let us hope to see a Veterans' hospital in our beloved Eritrea where a transition can be smoothed with mental health counseling and all the needed medical and financial help.  A dream of  being surrounded by the smell of medication and the soft walks of nurses and doctors in a Veterans' hospital for our handicapped Veterans will only  make us smile because we – their families- were  able to make our government understand that our Veterans deserve the best Eritrea can offer.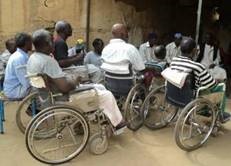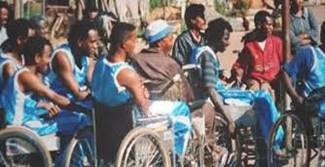 Generations of handicapped Eritrean Veterans! They deserve a day called "Eritrean Veterans' Day"
A dream to see quite dorms filled with serenity and their belongings squared away neatly, should be our strength and our weapon to fight divisive forces surrounding us today.
Let us struggle and fight all we can to provide our Veterans with psychological services; because our Veterans went from a situation of war where they were at the top of their dreams – giving freedom to all of Eritrea – to a harsh and ungrateful place that does not give them the honor they deserve for all they have done for each of us.
Let us engage Academic Eritreans to study how to measure our Veterans' rights and their success, so to provide them with compensation for their services.  Individual attention to those that are still around us.  And then individual compensation.  It is long overdue!
The most our hearts can give as far as love, compassion, respect and honor should be the harvest Eritrean Veterans need to see.
We should remind them every day that they are soldiers, with values they gifted us with.  The main value ALL Eritreans cherish is our Independence from foreign occupation and the slavery said occupation brought along.
Let us remember that ALL our Veterans gave us that gift.
How sweet these words: Independent Eritrea!
How long overdue our duty of gratitude towards ALL Eritrean Veterans!
Thank you much.  Kiki Tzeggai
September 13, 2016
---