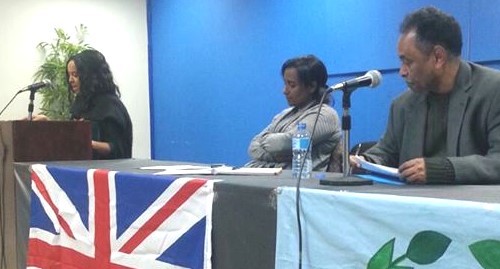 It really is an honour to get an opportunity to say a few words here today, so I thank those friends who organised this and invited me to speak.
Let me start with my regrets first. I regret the fact that I never got another opportunity to meet and spend time with Uncle Omar after our meeting at the Brighton Conference few years back, if I did I would have told him I had adopted him as a beloved uncle. Where I grew up you called all of your father's peers Baba or uncle … so I guess I am well within my rights here...

I first started corresponding with uncle Omar when I was tasked with coordinating the Brighton conference and he was one of our speakers and he was a delight to correspond with… witty, efficient and very punctual… the speed with which our correspondence progressed melted the vast physical distance and all other potential barriers into nothingness… by the time he arrived in Brighton meeting him in person was like bumping into a friend you spoke with daily… in life he was even more friendly and accommodating than through his emails… he teased me on my amicheness and thanked me for my effort in sorting out logistics for the conference (not everyone at the conference bothered to do that)…

But what I really admired the most was his open, realistic and really practical approach to reconciliation in Eritrea… he didn't underestimate the gulf across some sectors of our community… but he didn't exaggerate them either, rather like a the dignified elder he is he pointed out to what can be done about it… he kept repeating the need for an honest and open dialogue… the need for opportunities to come closer… work together and socialise across the divides so we can be human beings together… he commented and sent amendments to charters , documents etc like everyone else… but then went beyond that to suggest practical… down-to-earth ideas that had potentials for bringing communities together… he tried to show that it indeed was possible for us… for all of us to be Eritreans together…

Back in the summer… one discussion led to another with different colleagues and friends and I embarked on a project (more of a dream really at the moment) whereby a group of elders from right across Eritrean diaspora would come together and form an alliance a dignified alliance over and above political, religious and ethnic divides to represent the needs, the wishes and the aspirations of voiceless Eritreans Uncle Omar was top of my list of potential elders closely followed by Uncle Tewelde Vacaro… it seems God had a different plan to mine and he knows best…I accept that...

The struggle still continues… uncle Omar has gone to join the many that went before him… you and I are here to carry on from where he left and I celebrate the fact that he has indeed left enough for us to continue building bridges across our various divides and I pray that we would one day make him and all our veterans proud of what we have done with the trails they left.

until then... so long uncle rest in peace now...

selam kidane 

03/01/2015
---