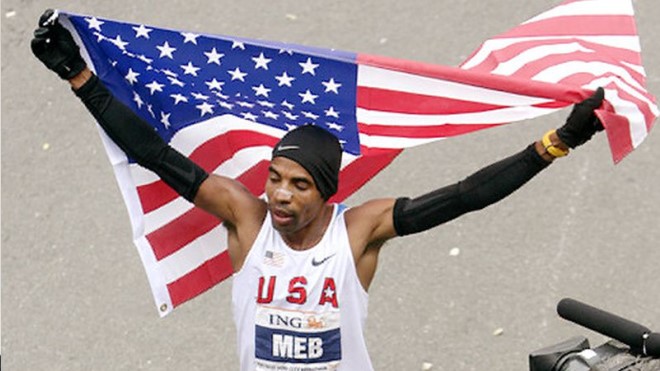 The 40th New York Marathon saw it's first American male winner in 27 years Sunday when Meb Keflezighi came back from both injury and tragedy to finish with a personal best of 2:09:14.
As he approached the finish line, Keflezighi pointed to the letters U.S.A. on his chest and the crowd, already cheering, roared.
"The USA gave me all the opportunities there is in education, sports and lifestyle," he said. "To be able to represent the USA is a big thing for me."
Keflezighi, 34, who scored a silver at the 2004 Olympics, was born in Eritrea in Africa but he fled war and became a U.S. citizen in 1998.
His triumph was one of persistance after hardships two years ago that would have sidelined a lesser man: During New York's 2007 Olympic Men's Marathon Trials, he came in eight after suffering calf cramps and a fracture his right hip during the race.
Worse, his close friend and training partner, Ryan Shay, collapsed in Central Park during the race and died of heart-related problems.
"He's going to be on my mind when I run and I'm going to do the best that I can," Keflezighi said at an emotional news conference a few days ago.
He said he was preparing to run past the place where his friend died.
"I know that when I hit that spot when I'm running, I'm going to feel it," he said.
He cried after he won and said later the tears were for Shay.
Keflezighi has brought glory to his adopted country before: His second place in 2004 was the first medal won by an American in the Olympic men's marathon since 1976.
Four-time Boston Marathon champ Robert Cheruiyot of Kenya came in second. Morocco's Jaouad Gharib finished third and American Ryan Hall was fourth.
In all, six Americans finished in the top 10, making it a banner day for US running.
"Americans are back!" said race director Allan Steinfeld.
The last time an American won the storied New York race was Alberto Salazar, who won three straight from 1980-82. Since then, Kenya, Mexico and Brazil have dominated.
On the women's side, Ethiopia's Derartu Tulu ended the two year reign of her great rival, Briton Paula Radcliffe, with a time of 2:28:52.
Radcliffe led for much of the race but fell to fourth toward the end. She was clutching her left leg in pain after finishing.
Tulu, 37, won Olympic running medals in 1992 and 2000.
But she hadn't won a major marathon since London's in 2001 and struggled with her weight after the birth of her second daughter three years ago.
Ludmila Petrova, a 41-year-old Russian, was the runner-up for the second straight year in the women's race, while Christelle Daunay of France was third.
New York's world famous marathon, always held on the first Sunday of November, winds through all five of the city's boroughs.
It attracts hundreds of world-class professional athletes and more than 100,000 ordinary runners who compete for the 37,000 spots.
The winner gets $600,000 and the cheers of two million spectators.
---