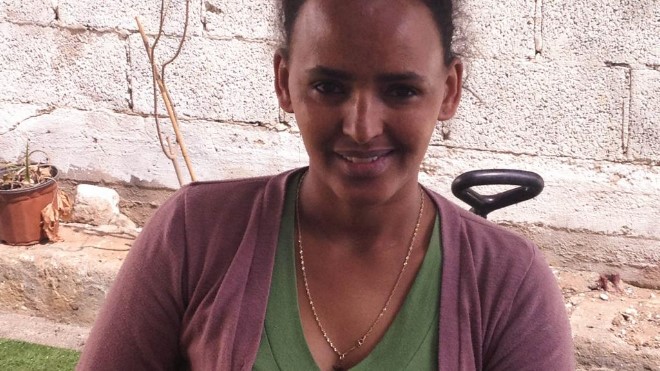 Israel is home to one of the largest Eritrean communities in the world. However, they face discrimination and live in constant fear. One Eritrean woman has founded a centre to give them support.
An estimated 35,000 Eritreans live in Israel. Many survived a perilous 2000-kilometre desert journey across Sudan and Egypt to get to Israel.
Many are lured by people and arms smugglers in Sudan. They are then met with suspicion by the Israeli authorities who neither send them back to Eritrea nor grant them refugee status.
And the introduction of the Law to Prevent Infiltration in January 2012 means that people trying to enter Israel without a permit can be detained without charge for up to three years.
It is this state of fear and limbo that provoked a 29-year-old woman to set up the Eritrean Community Women's Centre in Tel Aviv.
At the Eritrean Community Women's Centre in South Tel Aviv, Zebib Sultan, 29, plays with her 18-month-old son Aron.
Sultan fled Sudan for Israel in 2009, and like all the women around her, was imprisoned in a detention centre when she first arrived:
"We used to be sixty women in a tent. We had nothing to drink and no place to sleep- no blankets and no sheets. We had to lay close together to get warm."
Having been expelled from the centre with nothing but a bus ticket for Tel Aviv, Sultan came to the run-down south of the city that houses the majority of Israel's Eritrean community.
Despite having previously worked with the humanitarian organisation Médecins Sans Frontières in Eritrea, Sultan worked as a cleaner before deciding to found the Eritrean Women's Community centre.
This is the only one of its kind in Israel, providing support to around 100 women.
"We give English and Hebrew courses: this is necessary for work. Also we have art class, we also have family planning activities [sic]," Sultan explains.
"We also have a domestic abuse group: we discuss different women's issues within the community. We escort women to doctors also, as they don't have the language and someone should be with them. I always go with them," she adds.
Unlike community centres in other richer countries that form part of a support network, the centre is the sole form of assistance that many Eritreans have access to in Israel.
Sarah Robinson, the refugee Rights Coordinator at Amnesty International Israel who helped Sultan to found the centre, says her work is important.
"Before the opening of this centre, there really was no address that was comprehensive for women to deal with the past trauma, and unfortunately they are always on survival mode so they can't even think about the past often. They have to find a job, [but] they don't have formal work permits; they don't have access to government healthcare or welfare services. So they're pretty much left on their own to deal with the trauma they experienced on the way."
Sultan's success is to understand precisely what her community needs. The centre also provides day-care services for young children to allow their mothers time to work, and will soon implement a program to tackle domestic abuse and prostitution among Eritrean women.
"When I see other women who are abused, in addition to the stress they have from the policies here and the general situation, with others suffering just inside their houses, it hurts me a lot. So I feel responsible. I have to do something if I can help these women," she says.
Despite providing a lifeline for Eritrean women in Israel, the centre is constantly threatened with closure as it strives from month to month to find funding from private Eritrean donors living abroad.
Sultan continues to work; although it is an uphill struggle: it is unusual to find Eritreans who plan to stay in Israel for the long-term, as such is the level of discrimination that they face.
---